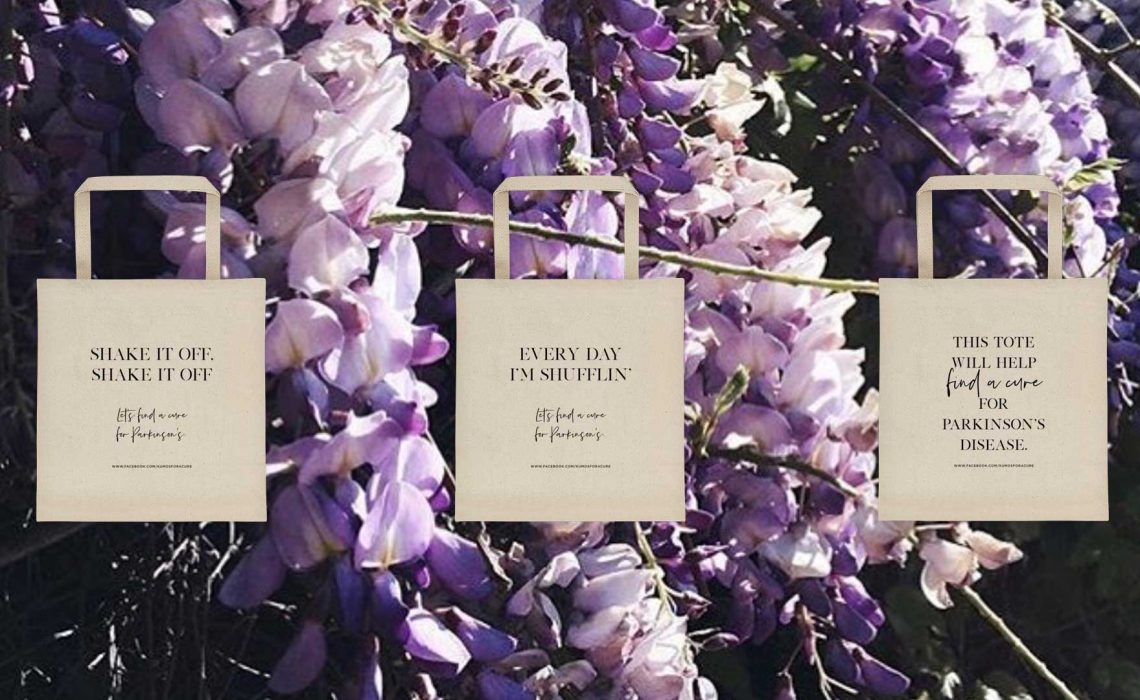 A big, love-filled thank you to everyone who has purchased
a tote bag.
I launched these charity tote bags only a week ago, and I'm utterly overwhelmed with the response. Incredibly, over $300 will be donated this week alone to mum's fundraiser to find a cure for Parkinson's Disease!
I

t only took me a few hours to come up with the designs and product descriptions, and then months to iron out the kinks and get these bags on the market. But to my surprise, it's only taken a week to make it all worthwhile.
When mum first asked me if I'd like to go to Spain in September for Camino for a Cure, I immediately said, "Fuck yes."
Then I got excited. I started thinking about our story, and how I'd use my skills to help raise the required donation amount, and what a great case study it would make. And sure – walking through Spain with your mum is something to get excited about!
I had all these grand ideas for slick websites and tongue-in-cheek t-shirts that would make great PR pieces. But after looking at the figures, it didn't make sense to spend money when I could just use the existing campaign tools provided by the trip organisers.
All travel costs for the trip are self-paid, and on top of that we needed to raise $4,000 each for the Shake It Up Australia Foundation. And all donations will be matched, dollar-for-dollar, by the Michael J. Fox Foundation. While I set up our Grassrootz campaign page, I bumped our joint donation amount up to a nice round figure: $10,000.
So far, we've done an alright job of hassling our friends and family to reach our goal. We've managed to hit $7,230 of $10,000. But there's been some lulls amidst the highs, and I know it bummed mum out when we'd go for weeks without a donation.
In just 3 days, we've raised over A$300 in donations for Shake It Up Australia Foundation from the sale of tote bags.
I decided to turn those t-shirt designs into tote bags, and put them on my website in the hope that we'd sell one or two.
In the past three days alone, we've sold 22.
While it may not seem like much, all proceeds from those sales amounts to just over A$300 that I'll be shifting into our fundraiser in a couple of days.
When I saw the orders, I felt like a kid on Christmas Day. And then the dread filled me. What if people hate them? What if they don't want to wait 2 weeks?
To ensure we're making the maximum profit from these bags, I've gone with a supplier who prints each order as they come through. They're made from 100% cotton and come from America.
The bags are amazing quality, well-sized and super sturdy, which makes them great for pretty much anything. I use mine for groceries, as a gym bag, and even as an overnighter.
Mum is currently overseas, and I tossed up waiting to tell her about our small success. She watches the campaign page like a hawk, so I thought I'd let her find out for herself when the amount miraculously went up a few hundred dollars one day.
Instead, she called me 20 minutes after I'd found out, and like the sieve that I am, I couldn't keep it to myself. She was ecstatic and said she had goosebumps (which is hard to have during a European summer).
So not only are these sales going to a great cause that will hopefully one day find a cure for Parkinson's, they're also making a couple of women very, very happy.
Thank you to everyone who has so far supported our campaign and purchased a tote bag. I'll be leaving them up for sale indefinitely, and will continue to donate every cent from the proceeds to the Shake It Up Australia Foundation.
Hopefully, one day soon, we won't have to.
You can still donate to our fundraiser, even if you don't want a bag.

SIGN UP FOR THE NEWSLETTER
I promise to never send you dirty pics (or spam!)
Just great recipes, skincare reviews & interesting reads.