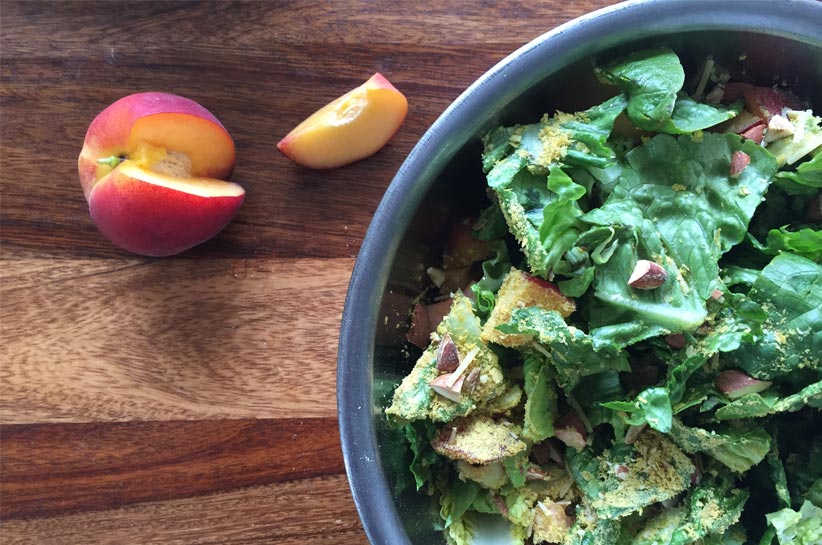 THIS FRESH, SUPER HEALTHY SALAD WILL BE YOUR SUMMER STAPLE
One of the best things about seasonal cooking is that your menu is never boring. Take advantage of the start of peach season with this delicious peach, almond and nutritional yeast salad.
A

lthough I'm writing this wearing a down jacket, I can almost taste Summer, which means my menu is going to start getting lighter (along with my booty, hopefully).
The flavours in this salad work beautifully together with a fantastic texture that leaves you satisfied, yet wanting more. I've included Nutritional Yeast in this recipe because it's full of Vitamin B12 and high in protein, which is perfect for a vegetarian meal.
It also adds a delicious parmesan-esque flavour, although I've also added real parmesan, because d'uh.
Roasted almonds are by far the one ingredient that will take your salad from "You don't make friends with.." to "actually, you do." They smell like popcorn while they're roasting, and their flavour lifts the taste of everything else in your salad.
TIP: Keep a close eye on your almonds while they roast. Once they're burnt, there's no going back and you'll need to start over.
I've had a girlfriend scoff at the look of one of my salads once before stopping midway to ask how I had made those flavours. Well, this is the secret: roasted almonds. They go perfectly with the peach, offsetting its sweetness for a well-rounded lunch.
Go on, impress your friends.
Serves 1
INGREDIENTS
1 Cos lettuce, chopped
1 Yellow Peach, diced
8 Cherry Tomatos, quartered
1 TBS Nutritional Yeast
1 Handful Almonds, chopped
1TBS Parmesan Cheese
½ Avocado, diced
1TBS Extra Virgin Olive Oil
1TBS Balsamic Vinegar
Pinch of Salt & Pepper
Method
1. Put your Almonds under the grill and dry roast on medium. Watch them – don't let them burn or you'll have to start again.
2. While the almonds are roasting, chop the Cos Lettuce into bite-sized chunks (5cm X 3cm) and rinse well.
3. Add the Peach, Cherry Tomatoes, Avocado, Nutritional Yeast & Parmesan Cheese, and toss lightly.
4. The Almonds should now be done, so add them in too.
5. In a small bowl whisk the Extra Virgin Olive Oil, Balsamic Vinegar and the Salt & Pepper until slightly frothy. Pour over the salad.
6. Enjoy!

SWIPE RIGHT
Join my mailing list and I promise to never send you dirty pics (or spam!)
Just great recipes, skincare reviews & interesting reads.