3 GREAT REASONS TO EAT BRUNCH AT KITTY BURNS
(and one reason to give it a miss!)
Situated in the Eden Apartment complex in Abbotsford, Kitty Burns is a bit hard to find – but it's worth the search.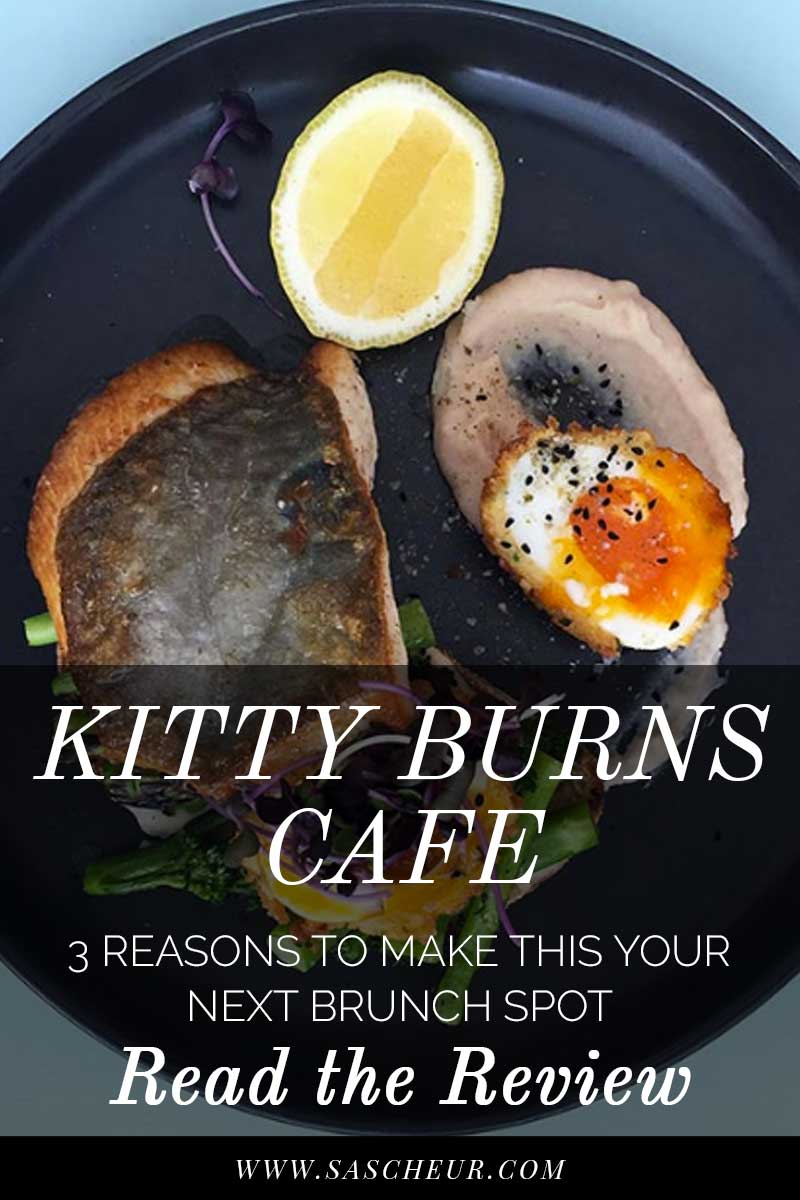 I

 remember reading about Kitty Burns late last year: architecturally cool, the interior design was the epitome of 2015 styling with rose gold accents and pale Scandinavian wood.
The house frame over the central service counter is a quirky addition, and the vertical garden covering most walls make me feel like I'm eating alfresco.
The devil's ivy cascading over planter boxes mounted around each wall add to the eco feel, and I can't shake the feeling that this is what life will be like living inside an eco-friendly biodome once we've destroyed the planet.
Read on for three reasons to put Kitty Burns on your brunch list – and one reason not to.
1. EXTENSIVE BREAKFAST MENU
All day brekky come at me
The menu at Kitty Burns is a breakfast-lover's wet dream. Pretty much everything listed is breakfast-oriented, and this is really how all menu's should be structured everywhere, always, end of story.
With drawcard menu items like Kitty in a Candy Store (essentially a berry doughnut dessert) and KFCC Waffles (fried chicken, waffles and a blueberry chilli sauce), there's enough quirky variety to suit any level of instagrammer.
But the serious eats are where Kitty Burns shines. Unfortunately, everyone else too had their heart set on the Prawn & Crab Omelette, and I had to settle for the Kitty Greens with a poached egg. This was all too healthy as far as I'm concerned, and, while delicious, I feel like I wasted my choice.
Brunch should be a little on the special side of things (read: forget calories exist) and choosing the healthy option seems silly when you eat clean the rest of the week.
My friend, however, cleaned up big time. Ordering the Pan Seared Dory, it came complete with charred broccoli and a perfectly panko crumbed egg. The dory was delicious and cooked just right, and don't get me started on the panko crumbed egg. Runny yolk yet deep fried crust – it was amazing.
That omelette is still on my mind though, and I'll find my way back to it soon enough.
2. A HUGE SELECTION OF NUT MYLK
Lactose Intolerants – rejoice!
I don't choose almond milk because I think it has health benefits or because it's 'cool'. I drink it because sometimes, it's nice to drink a creamy coffee, and my body annoyingly doesn't speak dairy.
However, finding a place that makes their own (rather than that terrible pre-packaged stuff) gives them an immediate bonus 10 points. Finding somewhere that also makes coconut and hazelnut mylk? I tip my hat.
They also happen to have a very extensive drinks menu in general, with a Red Velvet Beetroot Cacao Latte on my list of things to try on my next visit.
3. CRONUTS
The delicious Frankenstein's monster of the dessert-world
Until brunching at Kitty Burns, I had never eaten a cronut. Intrigued by the idea, yet turned off by the amorphous nature of merging two desserts I've little interest in eating in general, I thought this was a fad that would peter out like that scroll fad a few months ago.
Yet, here we are: they're delicious; I was wrong; let's never speak of it again.
Kitty Burns have a cupboard filled with a range of cronuts in a variety of flavours, including coconut, salted caramel, raspberry & white chocolate, blackforest, and triple chocolate.
We decided to split the triple chocolate, and it was just enough to enjoy the flaky, donuty goodness without feeling like we'd over done it.
FEAST YOUR EYES
The consumed.
AND THE REASON TO GIVE IT A MISS
Unfortunate, but worth mentioning.
This one is actually not representative of Kitty Burns' service or food whatsoever, but it does give me pause in heading back in a hurry.
Unfortunately, as Kitty Burns is located underneath the Eden Apartment Complex, the only parking is a CAREPark that you don't realise you're driving into until it's too late.
This wouldn't be a problem if they didn't have parking attendants on hand to charge people for going a few minutes over their pre-purchased parking tickets. But alas, they do – and both my friend and I were slugged with a $68 'breach of contract' notice for being literally a few minutes over.
I did the math: the actual 'damage' incurred to them by my tardiness was closer to 35 cents, which I would have happily paid. Instead, I paid the $68 and will be avoiding CAREPark wherever possible in the future.
I suggest you do the same, or pay for more parking than you think you could possibly need.
24 Acacia Place, Abbotsford, VIC, Australia 3067