SHOULD YOU ADD SUNDAY RILEY GOOD GENES & LUNA SLEEPING OIL TO YOUR SKINCARE REGIME?
These two cult products are all over Instagram – but are they
worth the hype?
I
've been coveting the Sunday Riley range for a while now. Splashed across the beauty cabinets of Instagram, the range is a favourite of beauty bloggers and editors everywhere.
I'm always a little skeptical about these 'cult products', though, and it took me a while to work up the nerve to fork out the A$124* for The Power Couple skincare pack from Mecca Cosmetica.
To be honest, I would not have tried this range without this clever marketing ploy, as the individual pricing of the full products is out of control. Each full size product is 30mL and A$158, and I've got a list of shoes as long as my arm that I'd rather spend the money on.
Nevertheless, The Power Couple wooed me into trying both products, and here we are.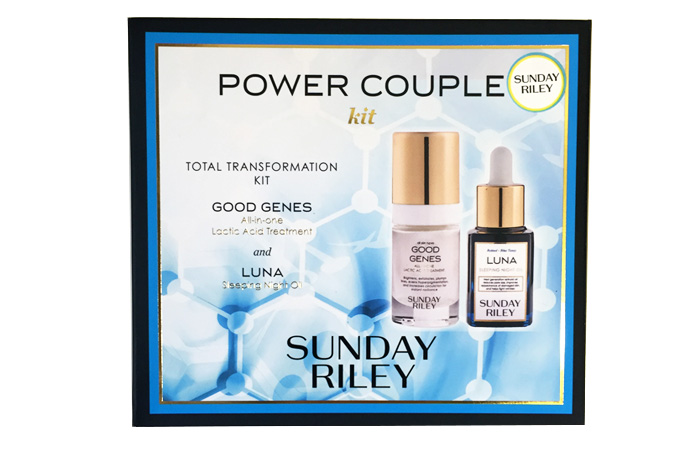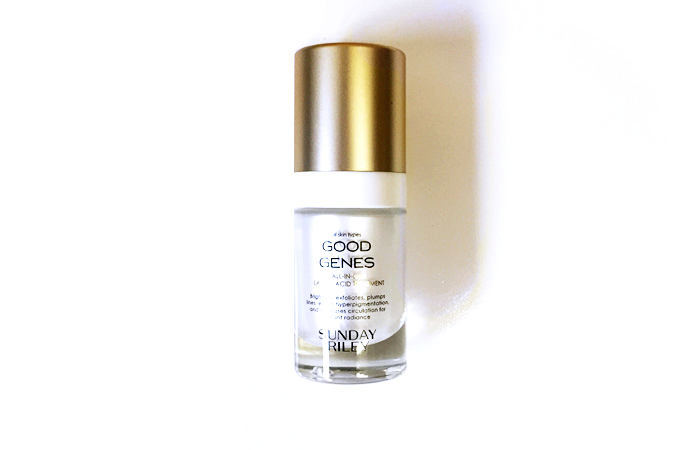 The star ingredient of Sunday Riley Good Genes is 5% Lactic Acid. Part of the Alpha Hydroxy Acid family, Lactic Acid helps break down the glue that holds skin together, acting as a chemical exfoliant to the outer layer of skin.
This means your skin looks fresh and bright as it's being mildly exfoliated with daily use.
One of the other core benefits of Lactic Acid is skin hydration. A natural humectant, Lactic acid draws moisture from the air, giving you plumper, glowing skin.
The moisturiser had a slight citrus scent to it, which kind of reminded me of a household cleaning solution. This faded very quickly, though, so you don't end up walking around all day smelling like you just cleaned the kitchen.
After using it for a month, my skin felt fresh, hydrated and had a nice glow to it. However, I felt like the effect disappeared when I washed it off (although I was in mid-European summer at the time and my skin doesn't do well in dry heat! Or humidity. Or winter.)
Overall, I'm not sure that this product is for me long term. While I did find it was true to its claims to 'brighten and plump' my skin, there are other products with AHA's that have produced similar results for me in the past at a lower price point.
But if you've got the cash, it's worth trying.
Sunday Riley's Luna Sleeping Oil is an interesting concept: a Retinol solution that utilises a range of essential oils to provide the skin cell turnover of vitamin A with the calming properties of the oils.
Their key selling point is that it's a Retinol without the irritation, which is attributed to the calming properties of the cold pressed Avocado, chia and concord grape seed oils.
The type of Retinol used – Hydroxypinacolone Retinoate – apparently works similarly to Retinoic Acid but without the irritation, although there aren't a great deal of studies demonstrating its efficacy.
Although I only used it for a month, I didn't mind this product and I can attest to the lack of irritation. It has a lovely herbal scent and the blue tinge (to help you know when it's rubbed in) is an interesting marketing gimmick.
I think the one thing I liked the most about this product was how hydrating it was. Although I didn't use it long enough to get any noticeable Retinol benefits, the oils were light and I woke up with lovely fresh, glowing skin each morning.
I liked this product but I like layering it with my usual night cream even more during winter. The oils are super hydrating and to be honest, I'd probably buy it for those reasons alone. I'd like to see more scientific evidence for the efficacy of the type of retinol used, but I did really like using this product.
Again – if you want to splurge on your skin, this is a no-brainer.
Important Note: I get the worst cystic acne around my period, and lo-and-behold I scored one during the time I was using these products from Sunday Riley.
However, between the lactic acid in Good Genes and the Retinol in Luna Sleeping Oil, it disappeared in half the time – massive win!
Due to the current pricing structure, I think you're better off purchasing 'The Power Couple' each month rather than the full sized product.
Aside from hopefully being a fresher product each time, you're still getting the same amount of product in the end but saving over $100 in the interim! Win-Win.
Then you can spend your saving on something else shiny at Mecca each time you restock…
*At time of purchase, I paid $124. At time of writing this post, I believe the price is $117.
Mecca Cosmetica update their pricing in line with exchange rates.
Have you tried Sunday Riley's Good Gene's and Luna Sleeping Oil? Tell me if it's worth the splurge in the comments section below!

SIGN UP FOR THE NEWSLETTER
I promise to never send you dirty pics (or spam!)
Just great recipes, skincare reviews & interesting reads.