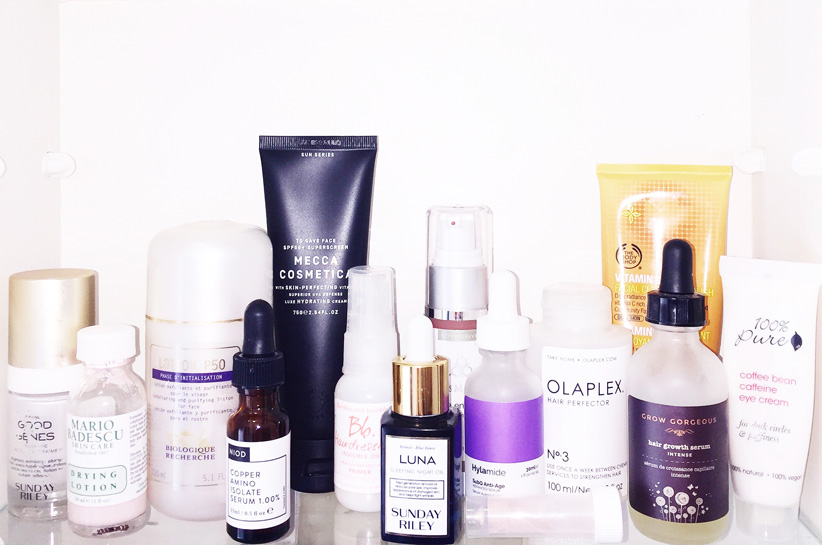 THE 6 HARD-WORKING SKINCARE ESSENTIALS EVERY WOMAN NEEDS ON HER TOP SHELF
Confused by skincare? I've put together the 6 basics you need for great skin (plus a FREE DIY Vitamin C Serum recipe)
S

kincare can be confusing. With all the brands out there promising healthy, youthful, glowing skin, it can be difficult to know what you actually need – and what's hype.
Every skin is different and what works amazingly well for me might leave you feeling irritated – but these 6 products should form the staple of your skincare routine.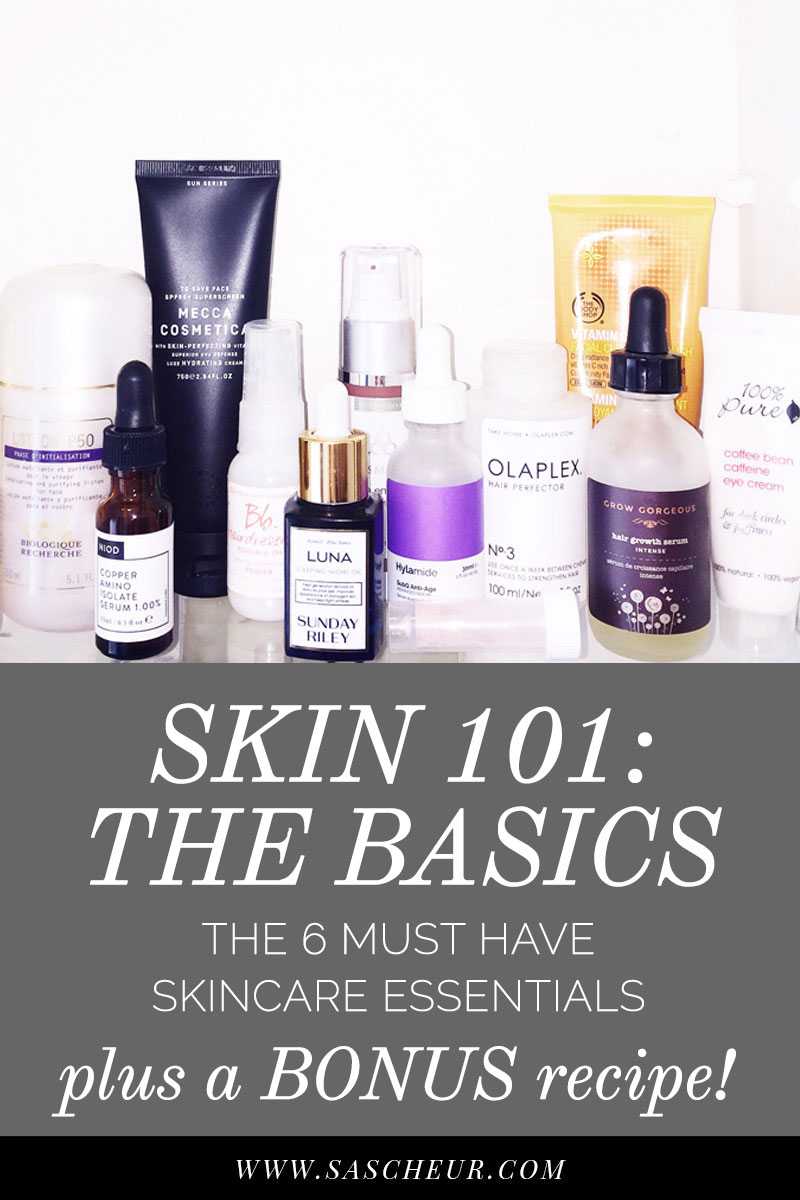 This one's a no-brainer. You need nice, clean skin that functions optimally and allows penetration of active ingredients. Finding the right cleanser to suit your skin, however, can take a bit more effort.
I tend to change cleansers depending on my skin's needs, but a good rule of thumb is to keep it natural and with minimal detergents (think sulphates, parabens and Sodium Lauryl Sulfate (SLS).
If your skin is more on the dry side of things, try a cream cleanser. Or if you're oilier and prone to breakouts, a cleanser with salicylic acid or an AHA base (Alpha Hydroxy Acid) could help keep your pores clear.
Personally, I have combination skin (dry cheeks, oily forehead) and I stick to natural cleansers that are close to my skin's pH. I like it when my cleanser can take off my makeup but doesn't strip it of natural oils, so it's a delicate balance to find.
I also don't believe in spending too much on a cleanser, as it spends so little time on your skin before being washed down the drain!
This face cleanser didn't leave me feeling dry, like some can, and my skin felt clean. Make up removed easily too, which is always a bonus.
Vitamin C Serum is the be-all and end-all of magic tricks to make your skin fkn GLOW. I'm not kidding. Whenever I have received the most compliments on my complexion, it's when I've been using a fresh batch of Vitamin C serum and I'm walking around like mood lighting has been lit inside my pores.
It's fantastic.
It's also extremely unstable and has the shortest possible shelf life you can imagine for a cosmetic product, which is why you need to be making that shit fresh every month. It's also cheaper to do so and infinitely better for your skin.
Which is why I don't purchase pre-made Vitamin C serums from any brand. I have in the past, and I've had nice results, but it was costly and frustrating that they came pre-tinted orange so you couldn't tell whether the product had oxidized and was no longer effective.
When Vitamin C naturally oxidises, it turns rust brown and is no longer beneficial. Dodgy companies like to tint it orange to hide the fact, and you have no idea if your product is working or rancid.
But chill – it's really easy to make a super basic Vitamin C serum yourself, and I've put together a free DIY printable guide.
You need two moisturiser's every day: an AM moisturiser and a PM moisturiser. The reason you shouldn't be using the same for each time of day isn't (entirely) that skincare companies are trying to get more money out of you.
Not only does your skin have different needs throughout the day, but some ingredients are photosensitive and can cause damage if used during sunlight hours. Others are beneficial in protecting skin when the sun is out, giving you a double-whammy in sun protection.
As I said previously, I like to change things up with skincare. My skin is combination (on the dry side) and I like products that have a high antioxidant content as well as a lot of hydration (well, it is a moisturiser).
I want to look heaps dewy and glossy, like my skin is crazy healthy and fresh, but I need to make sure I'm using product's that reflect my needs at that particular time.
I keep a really good rosehip oil in your cupboard as you can add it to any products that don't quite feel emollient enough. Sometimes I use it as my sole moisturiser, sandwiched between my Vitamin C serum and my sunscreen.
I've always enjoyed going back to Philosophy's Hope in a Jar for Dry Skin (NOT the original – it doesn't work well with my skin at all!) as it has a lactic acid base that helps to gently exfoliate and hydrate.
4. VITAMIN A NIGHT MOISTURISER
Vitamin A (Retinol) is crazy good for your skin and is one of the only proven actives that will give you healthy, acne-free, youthful skin with diminished wrinkles.
I unfortunately suffer from the odd hormonal cystic acne (it's fucked) and I'm pretty frightened of wrinkles, and using a Vitamin A cream nightly for the past 9 months has kept me mostly acne free and with fresh, healthy skin. I think I've had 2-3 pimples in that time frame and this is coming from a period of having 2-3 per month.
As I outlined above, your night moisturiser needs to be separate from your day cream – and Retinol, which degrades in sunlight, is the reason why. Although some believe you can use your Vitamin A cream during the day, they follow that up by advising to wait an hour before applying sunscreen and heading outdoors. Do I have that type of time in the morning? Hell no.
You should, obviously, be wearing a high SPF UVA and UVB protecting sunscreen daily, and especially if you're using a Vitamin A cream at any time of the day or night.
As the main action of Vitamin A is to increase skin cell turnover (peeling the top layer while thickening the lower layers, which is how it clears through acne while plumping up wrinkles) your skin becomes more sensitive to sunlight and your chance of getting sunburnt increase.
You need to build your way up to higher levels of Vitamin A and other vital antioxidants with each tube, but it's worth it.
The gradual increase allows skin to become accustomed and reduces reactions such as peeling and irritation. Available from Environ skin therapists only.
The area around the eyes is naturally the thinnest on the face, and it irritatingly only gets thinner as we age (unlike my thighs).
Some products claim to help reduce dark circles (baloney in my opinion – it's usually hereditary and you're destined to either look like a crack-addicted raccoon or live in concealer) or they try to decrease puffiness. Others claim to help reduce crows feet, but your day and night creams (provided you can tolerate them on your eye area) work just as well.
Funnily enough, I don't have any trouble using Vitamin A on my eye area whatsoever, but the majority of eye creams give me a lot of irritation! Go figure.
I found this to have a very lightweight, almost whipped texture that smelled lovely and hydrated the area nicely.
6. SUNSCREEN (mandatory!)
If there is one skincare product you should invest in above all else, it's sunscreen. No if's, no but's – it's a proven anti-aging cream that is proven to prevent skin aging.
I'm not going to repeat myself, because I've covered the anti-ageing benefits of sunscreen here, but the TL;DR version is: just wear it. I've even give you a list of my top 3.
Choose a sunscreen that has a high SPF 50+ with broad spectrum UVA and UVB coverage. Wear it every day, rain, hail or shine. Enjoy the benefits.
Reports show that incidental sun exposure adds up and increases your long-term risk of skin cancer. So essentially, sunscreen could prevent wrinkles and the risk of having a malignant tumour (that could enter your blood stream) cut out of your face.
Lightweight and super hydrating, this is the best sunscreen I've ever used. Instead of leaving white bits, it gives you a healthy, dewy glow and works wonderfully under makeup.