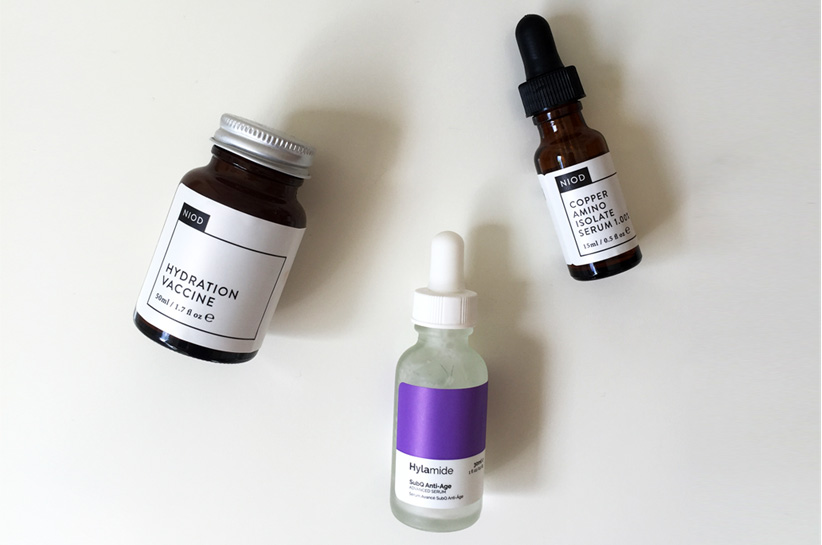 WINTER IS NOTORIOUSLY SHIT
FOR YOUR SKIN
In the same way you change your wardrobe for the oncoming season, you should update your skincare regime to accomodate cold weather
It's almost winter.
Melbourne's climate is notoriously dry (yet so, so wet. Go figure). It's a rude shock coming from the humidity of Wollongong – where I cool off in summer in front of the freezer, hoping my bronzer will dry. It wasn't until I moved to Melbourne 3 years ago that I realised that this wasn't normal behaviour when getting ready for a night out.
The downside to not feeling sticky all the time is seriously dry skin, and as we move swiftly into winter, my skin has begun showing the hallmarks of Melbourne's infamously shit weather. Light dehydration lines have appeared on my forehead, and my skin is starting to look dry and dull instead of healthy and glowing.
No matter how much moisturiser I slather on, it just doesn't seem to be enough at this time of year. Over coffee with my bff, I was a little bit annoyed to see her skin looking so dewy and healthy. After asking her wtf she knew that I didn't, she gave me the rundown on the new skincare range she's been using.
The Canadian company, DECIEM, have a number of brands under their umbrella, alongside an interesting ethos to provide innovative products at reasonable prices. It's a great idea, and it has been well executed across their 10-plus brands, which range from skincare to hair care, and even makeup.
The products I've been using are from two ranges: Hylamide and NIOD (Non Invasive Options in Dermal science). Both ranges are focused on anti-ageing, although they could be categorised (and are certainly marketed as) basic and advanced.
Their basic range, that still feels clinical and impressive (which is what you want from your skincare). Their marketing for the range fits in line with their underpinned promise to deliver results instead of empty promises.
30mL $57
Primarily a hyaluronic acid serum, this 'highly active concentrate' claims to rehydrate and improve lines & wrinkles. Incredibly, they aren't full of it: probably my favourite of the three products, it left my skin feeling hydrated and looking fresh.
Hyaluronic Acid is a bit of a buzz ingredient at the moment, but with good cause: low-molecular hyaluronic acid (which Hylamide apparently uses) have been shown to significantly moisturise skin and reduce the depth of wrinkles.
Repurchase?
Yes.
Recommended?
Yes.
I don't personally like the excessive marketing jargon employed with the NIOD range – sonic-jet-infused, nano-liquification, anyone? – as it comes across as an excuse to jack up the price and makes the supposed benefits difficult to read. But it looks impressive.
15mL $90
This product was an interesting one with a bit of interactive DIY chemistry to get you started. After mixing the Activator into the Copper solution, the blue serum is applied after cleansing at night.
I was surprised by how quickly this worked on live acne, although after a bit of research it makes sense: copper apparently supports the key factor in wound healing.
While the 15mL didn't last me long enough to see if it kept my skin youthful long-term, I was impressed by its ability to heal blemishes quickly.
Repurchase?
Yes.
Recommended?
Yes.
50mL $80
Sold in hugely inconvenient jars with screw top lids, this moisturiser feels more like a makeup primer than a cutting-edge hydrator. Closer inspection at the ingredients and the first and third are both silicone's – the primary ingredient in a primer.
Although it's supposed to 'seal' your skin to keep in moisture, all I feel is slippery, but not hydrated. The texture put me off trying this often enough to know whether it actually worked long-term.
Repurchase?
No.
Recommended?
Probably not.
Overall, I'm happy with the results of the Hylamide to take me into a miserable Melbourne winter. Available in Priceline, this product has a permanent home on my skincare shelf.