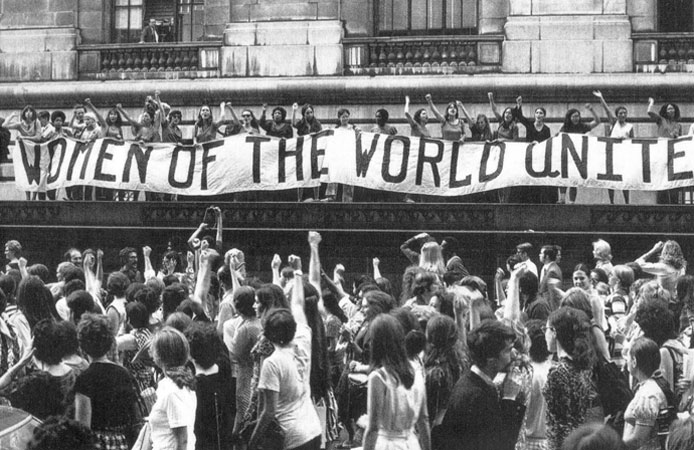 YES, I'M A HANGRY FEMINIST
Because it's 2016 and we're still having this stupid conversation.
S

ometimes I find myself getting cranky for no reason. Low blood sugar hits, and suddenly I'm on a snarky, cynical, Joe-Pesci-esque rampage from which only a Snickers could help me recover. I'm Hangry.
But sometimes, I feel like this without succumbing to 3:30-itis. Sometimes, people and society are so painfully unintelligible and immersed in a culture that condones Everyday Sexism, that I get pissed off with the state of the world and my place in it without needing a snack.
It's a new kind of Hangry: one where women are starved of equality in less obvious areas of their lives – not just under the slowly diminishing glass ceiling of their careers, but in the everyday public forum in which we have surprisingly little agency.
IT SURPRISES ME WHEN WOMEN TELL ME THEY AREN'T FEMINISTS.
In my bemused experience, it's said with a snide and self-assured tone by women who have almost zero understanding of what it even is. It's like they've bought into the rhetoric that feminism is some perverse word that doesn't have roots steeped in equality; or that, ironically, they feel a sense of superiority by denouncing a movement that gave us a range of liberties we now take for granted.
I've had this conversation with family, friends and colleagues – both male and female – who have argued with me that the 1st world no longer needs feminism.
"Women don't have it so bad," I'm told patronisingly, like I don't know my own lived-experience as a woman. "It's not like it used to be – why do you want to be one of those angry feminists that hate men and just want to rule over them?"
Somehow, the word 'feminism' brings to mind bra-burning misandrist's trying to force 'equality' by limiting or reducing the power of our male counterparts.
It's utter crap. A true feminist doesn't hate men; but s/he does hate oppression. A true feminist hates walking down the street and being cat called, or objectified; or to have their status within society belittled or deemed less valuable based on whether or not their undies have a little pocket in the front.
I've been unfortunate enough to have had that stupid conversation – almost verbatim – with a man recently.
FEMINIST'S WANT EQUALITY BY BRIDGING THE GAP – NOT BURNING IT DOWN.
They get angry about the fact that some of these attitudes and behaviours are so ingrained, that they go unnoticed by the perpetrators, and worse – unacknowledged by their victims. When you don't have the words to describe your experience, you don't have the power to discuss and make change.
We've reached a time where we have the means to discuss these issues and use global campaigns like #HeForShe and #YesAllWomen to help us have these discussions online.
But maybe a chocolate bar wouldn't hurt.