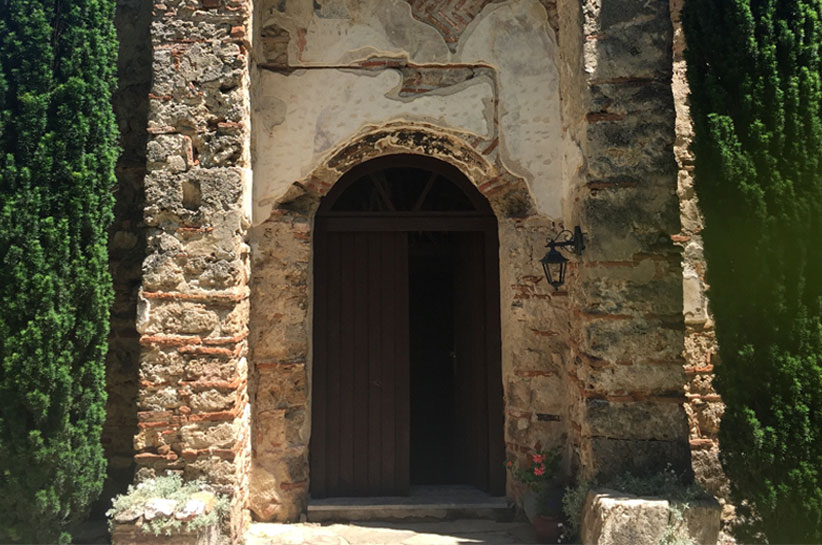 THIS PLACE WAS SO SERENE, IT WAS LIKE HAVING YOUR CHAKRA'S CLEANSED
There are a handful of places in the world that feel like you're on another plane, suddenly pulled out of your reality to be perched in another universe. This is one of them.
S

et atop the valley overlooking Strumica, Macedonia, is the tranquil Monastery of The Holy Mother of God Eleusa in the village of Veljusa.
A mouthful, I know – but stay with me.
Situated about 20 minutes outside of Strumica up a winding, steep road lined with dilapidated houses, it's worth the drive just for the view of the valley below.
THE ENTRANCE IS DIFFICULT TO FIND
Overgrown with weeds, the stairs lead to an unmarked wooden door set into a recently renovated stone wall.
If you didn't know what treasure lay behind, it would easily be overlooked in a heartbeat.
Because beyond the gate lives a tiny glimpse of paradise.
The courtyard is completely serene and deafeningly silent, apart from the sweet chirping of birds living their idyllic, short lives in the perfectly manicured gardens.
The warm breeze carries the clean scent of firs and the songs of sparrows into the fresh spring mountain air, and there are ample benches to sit and soak up the warmth of the sun.
11TH CENTURY ARCHITECTURE
Built in 1080AD, the monastery reflects Byzantine architecture with its arched doorways and domed roof.
The structure is stunning in its simplicity, as the sharp edges and corners juxtapose against the curves of the entryway and ceiling.
Inside, the space is perfectly sparse. Smooth marble tiles cover the foyer, and a minimalist mosaic pattern in the main chamber hints that this room is special.
Above, living inside the dome, is an ancient and peeling image of Christ staring down.
I'm not a religious person, but inside the monastery it was easy to see how someone could feel closer to God.
The natural, simple design felt earthy and genuine, like the only thing that mattered was unspoken and intimate, rather than gaudy and ostentatious.
OUTSIDE, THE STILLNESS OF THE GARDENS IS BREATHTAKING
Probably my favourite place so far in Macedonia, the sense of peace found in this small space was almost unnerving.
When you don't realise that you've been missing serenity, experiencing it is suddenly surreal.
All of the shit you've been carrying around for the past week suddenly vanishes, like you've left it at the gate amongst the weed-choked stairs.
Just remember to pick it back up on your way out.